No. 3 of: 8 Ways to Increase Employee Engagement
Communication is such a fundamental part of the employment experience and plays a pivotal role in creating a unified and energized company culture.
Yet, fewer than half of employees (49%) believe the communications they receive from their company make them feel inspired or excited.
Companies should "strive towards passion-filed communications, consistently delivered across the hierarchy in a way that is open and receptive to employee voice." (ORC International's Global Engagement Trends 2016).
Of course, the definition of engagement includes being actively aligned with the company's goals. However a recent Bain & Company study found 60% of employees didn't know their company's goals, strategies and tactics.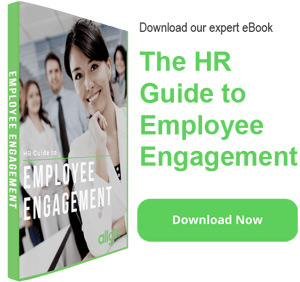 Remember, communication is a two way street. If employees feel involved and empowered to share their ideas and opinions at work, and if they feel those opinions make a difference, their individual performance can increase.
In fact, employees who feel their ideas and suggestions matter are more than twice as likely to report a positive employee experience as those who don't (83 percent vs. 34 percent).
Communication is so vital to the reward & recognition programs that Allgo operates for clients, we spend at least 50% of our time designing our programmes and technology to enhance the communication side of the programme.
Read the next of our: 8 Ways to Increase Employee Engagement>
If you would like to talk to Allgo about putting in place a year-round tax-efficient employee reward & recognition programme, please don't hesitate to contact us today.
Download our eBook
In the latest eBook from Allgo, we look in detail at employee engagement - what is is, what it does, how to measure it, and how to improve it in your organisation. Download it for free today by clicking the Download Now button below.
Download our expert eBook:


The HR Guide to Employee Engagement

High Employee Engagement is the holy grail of HR and is a significant factor in overall company performance. This definitive guide shows you:

Current Stats on Employee Engagement
How to Measure Engagement
8 Ways to Increase Employee Engagement
How Recognition Can Improve Engagement
10 Steps to Successful Employee Recognition=
How to Prove ROI on Recognition
12 Pitfalls to Avoid in your Employee Reward Programme