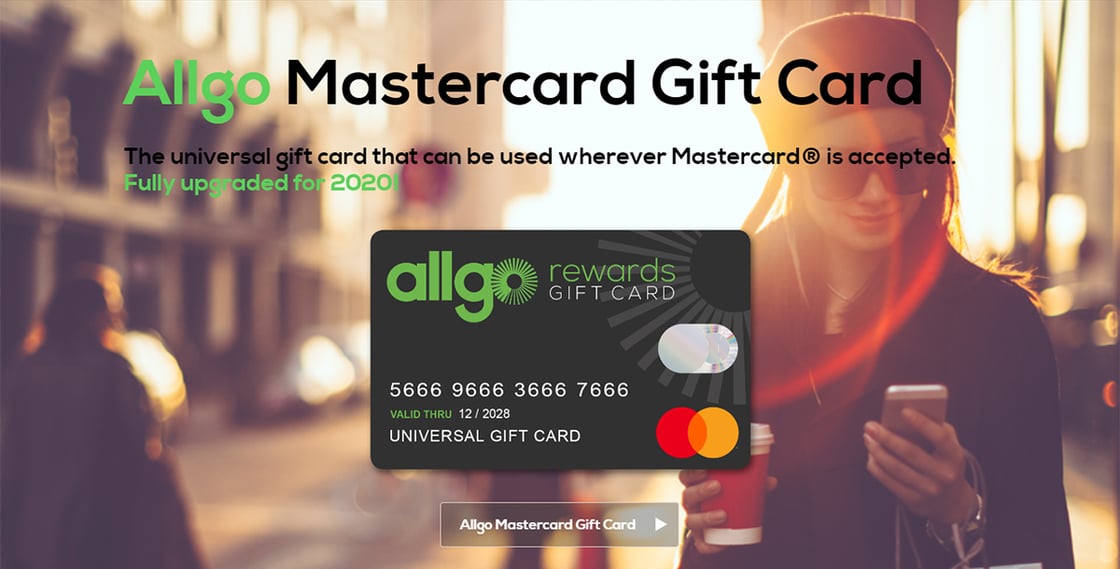 Since we launched the Allgo Mastercard Gift Card in 2016, we have been blown away by the repsonse from Irish businesses. The flexibility that the card offers and the tax-savings for employers on the €500 Small Benefit Scheme has resulted huge growth for the card in the last 4 years.
Now, to bring the product and related services to the next level, we have finished a year-long project to completely upgrade the Allgo Mastercard Gift Card.

From improvements in card ordering and invoice payment, to new optional extras and enhanced client security, to longer valid thru dates and 3D Secure for online spending, both our corporate clients and our cardholders will benefit from this new and improved Allgo Mastercard Gift Card. Here are the details.....
1. CARD IMPROVEMENTS
Easier and more secure ways to use your Allgo Mastercard Gift Card include-
New website - allgogiftcard.com - to get your card balance and view your transactions.

You can now register your card for 3D Secure (for online purchases).

New 5 year Valid Thru date on all cards.

Cards now regulated by the Central Bank of Ireland.




2. NEW OPTIONAL EXTRAS
The basic card prices have not changed, but we have introduced a range of great optional extras, including-

Express Orders

Greeting Card

Branded Greeting Card

Branded Card Carrier

Branded Card

Delivery to End Users - very useful if your staff are working remotely!
Full pricing at allgo.ie/mastercardpricing
3. NEW ORDERING PROCESS
Now you can place orders online for faster processing and dispatch-
Fast online ordering at allgo.ie/mastercardorder

Standard orders take 3 - 4 working days. Express orders are dispatched by overnight courier within 24 hours of invoice payment receipt.

New client security process to verify and protect all clients.

Your cards are delivered loaded but blocked. Once you receive your order, you can request that they be immediately unblocked by emailing myorder@allgogiftcard.com - for security this must be from the same email address that we have onfile for you.

4. NEW PAYMENT PROCESS
New individual IBAN for each client, and new secure online payment by credit card-
Each Allgo Mastercard client will be given a NEW INDIVIDUAL IBAN THAT IS uniquely assigned to you for all your orders from now on.

Your

Allgo Mastercard Invoice will contain your individual IBAN. When you pay by bank transfer, your funds will automatically be assigned to your order - and for added security can only be used to load your cards.

As this new IBAN is issued from our supplier, Banking Circle, in Germany, you will need to use SEPA payment - not urgent or same day transfer.

Once your payment is flagged by Banking circle, the funds are automatically transferred to a secure Irish bank for immediate loading onto your cards.

If you wish to pay by debit or credit card, your invoice will contain a Stripe link to pay securely online (2.5% fee applies).
Download the Allgo Mastercard Gift Card Sales Brochure
For all details and pricing options

Allgo Mastercard Gift Card Brochure

The Allgo Mastercard Gift Card has been completely upgraded for 2020. The new card and related services together deliver significant benefits to both clients and cardholders.

3D Secure online payments.
Online portal to view card transactions.
Regulated by the Central Bank of Ireland.
Funds held securely in segregated Irish bank account.
Dedicated cardholder website - allgogiftcard.com
5 Year Valid Thru Date on all cards.