The highest performing employees are three times more engaged than the lowest performers, according to ORC International's Global Engagement Trends 2016.
Employee Engagement is a key indicator of company performance, and can make a significant difference across a host of business criteria, including:

Therefore, any steps to improve engagement can reap substantial financial rewards for any organisation.
Some managers are naturally better at motivating their people, and so without consciously trying to can increase employee engagement simply through their management style. However, company-wide initiatives are required to deliver consistent, company-aligned engagement.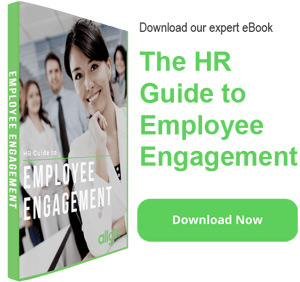 Some engagement initiatives are easier and cheaper to implement than others, and some your company may be doing already. Some initiatives may work better or even be targeted specifically at different segments of your employees.
For example, what engages millennials (already 30% of your employees) will not be identical to what engages a 40 something or 50 something in your organisation. As so it shouldn't.
And engagement isn't static either – as your organisation develops and the external environment changes, so too will the meaning and practice of employee engagement.
"The real measure of a valuable worker isn't just their hands or brains, but also their heart – their commitment to a company and its values".
So, with all that said, and in no particular order, here are 8 sure fire ways to improve employee engagement:
Read the 1st of: 8 Ways to Increase Employee Engagement>
If you would like to talk to Allgo about putting in place a year-round tax-efficient employee reward & recognition programme, please don't hesitate to contact us today.
Download our eBook
In the latest eBook from Allgo, we look in detail at employee engagement - what is is, what it does, how to measure it, and how to improve it in your organisation. Download it for free today by clicking the Download Now button below.
Download our expert eBook:


The HR Guide to Employee Engagement

High Employee Engagement is the holy grail of HR and is a significant factor in overall company performance. This definitive guide shows you:

Current Stats on Employee Engagement
How to Measure Engagement
8 Ways to Increase Employee Engagement
How Recognition Can Improve Engagement
10 Steps to Successful Employee Recognition=
How to Prove ROI on Recognition
12 Pitfalls to Avoid in your Employee Reward Programme