Higher Employee Engagement has been shown in study after study to improve business performance across a range of criteria -
• 23% less turnover
• 37% less absenteeism
• 50% higher customer satisfaction
• 50% higher productivity
• 44% higher profits

Recognition can play an important role in employee engagement. "Employees recognised with 1.5 – 2 awards each quarter feel significantly more appreciated for their performance and as a result are significantly more engaged." (The WorkHuman Analytics & Research Institute)

In considering an employee recognition programme, how can the results be measured and the engagement dividend be proven as ROI?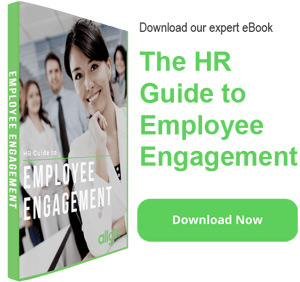 For certain companies, the rationale for launching an employee recognition programme is in direct response to an issue that has been identified in the business.

For example, it could be poor recognition culture reported in an employee survey, or an increasing rate of staff turnover. It could be a sales drive for a new product, or a desired increase in specific productivity measures. It could be part of a bigger investment in recruitment, learning & development, or company cultural transformation. From these requirements, a set of Financial Goals can be developed.

And once the recognition programme itself is designed, a set of programme-specific Engagement Goals can be built into it.

Financial Goals
Financial goals are hard measures that over time produce a verfiable picture of business results. Ideally there will be a set of "before" data to act as the baseline for measuring the results of the programme. Financial Goals for a recognition programme can include-
Employee Attendance

Staff Turnover

Productivity Measures

Sales Target

Business Referrals]

Employee Referrals
Depending on each programme's specifics, and any other parallel initiatives, these financial goals can be up to 100% attributed to the recognition programme.
Engagement Goals
These goals tend to be more short term and are tied 100% to the programme itself. The premise is that the more that employees are engaged with the recognition programme itself, the higher the financial dividend will be. Engagement Goals include-
Programme Participation – eg the number or rate of nominations, of rewards issued, programme eZines opened, social recognition interactions, manager recognition moments

Positive Employee or Manager Feedback

Employee Survey Results

(on specific questions)

Reduction in HR Admin

Customer Satisfaction Scores
If there are positive results on these Engagement Goals, then it can be expected that financial goals will be positively influenced in the medium term, and these hard mead measures can be objectively assessed.
Of course, to calculate the ROI, the hard financial results need to be compared against the cash investment in the programme. For any programme, calculating the costs will comprise of the following elements-
The Cost of the Rewards (by far the largest element)
Cost of Third Party Fees
Less any Company Tax saved on the programme (eg Small Benefit Scheme)
Less any reduction in Internal Administration Costs
Less existing Ad Hoc Reward Spend
Best practice says that a recognition programme budget should aim for 1% of payroll, though this budget is often mitigated by the myriad of ad hoc rewards managers and departments are already spending on employee rewards.
So for example, take a company with 100 people (with average salary of €30,000 per annum), who run an in-house employee reward programme and also have managers buying ad hoc rewards for their teams. The company now wants to use the full €500 Small Benefit Scheme and award on average €300 in rewards per employee spread over the whole year on a single structure recognition programme. The company partners with a specialised provider to run the programme at an annual costs of €10,000. So the total cost calculation for this programme would look like–
Cost Item

Description

Estimate

Cost of the Rewards

€300 per employee (on average)

€30,000

Reward Provider Fees

Annual fees to third party provider

€10,000

Less Employer Tax Saved on Programme

Employer's PRSI @ 10.85% of Reward Total (on Small Benefit Scheme – not including income tax saved by employees themselves)

(€3,255)

Less Reduction in HR Admin

Estimated reduction in resource by outsourcing programme

(€5,000)

Less Existing Ad Hoc Spend

Estimated total amount already being spent on employee rewards throughout the organisation

(€10,000)

Total

€21,745

So in the above example, at a net cost of €21,745 per year, then the programme would pay for itself if ANY of these financial results are achieved-
Reduction in Employee Turnover by:

5 employees (@ 50% total cost of recruitment)

Reduction in Absenteeism by:

5 days per employee

Increase in Productivity by:

€21,745

Increase in Sales by:

€54,362 (40% margin)

Increase in Customer Satisfaction / Market Share by:

€21,745
In reality, an employee recognition programme will deliver improvements across multiple financial areas. So a combination of even marginal reduction in turnover and absenteeism will pay for the costs of the recognition programme. And any increased productivity, sales and customer satisfaction will then deliver the profit or full return on top.
In Conclusion
Recognition, especially when it comes from your direct manager is a significant motivator for employees.
Even with a relatively modest investment, a proven return can be shown in marginal improvements in key employee metrics like voluntary turnover and absenteeism, combined with programme-specific goals such as increased productivity, sales and customer satisfaction.
Read more: 8 Ways to Increase Employee Engagement>
If you would like to talk to Allgo about putting in place an employee recognition programme to engage you staff, don't hesitate to contact us today.
Download the eBook
In the latest eBook from Allgo, we look in detail at employee engagement - what is is, what it does, how to measure it, and how to improve it in your organisation. Download it for free today by clicking the Download Now button below.
Download our expert eBook:


The HR Guide to Employee Engagement

High Employee Engagement is the holy grail of HR and is a significant factor in overall company performance. This definitive guide shows you:

Current Stats on Employee Engagement
How to Measure Engagement
8 Ways to Increase Employee Engagement
How Recognition Can Improve Engagement
10 Steps to Successful Employee Recognition=
How to Prove ROI on Recognition
12 Pitfalls to Avoid in your Employee Reward Programme