Employee Engagement is the willingness to give discretionary effort to a job. How engaged employees are is key indicator of company performance, and can make a significant difference across a host of business criteria, including:

So how do you measure it?
The concept of employee engagement is often confused with satisfaction or happiness. However, the true definition is deeper in meaning. Employee engagement is defined as "the level of an employee's psychological investment in their organisation." (Aon Hewitt). It's about the extra effort employees invest in their daily work to further the goals of the company.
Employee Surveys are commonly used to measure or approximate the level of employee engagement. Detailed questions can reveal not just the level of engagement, but specific areas where engagement can be improved. For example, Irish Distillers 2015 employee survey reported low scores for recognition. 2 years later, after introducing an award-wining peer-recognition programme with Allgo, this metric was the single most improved out of the 90+ questions in the annual survey.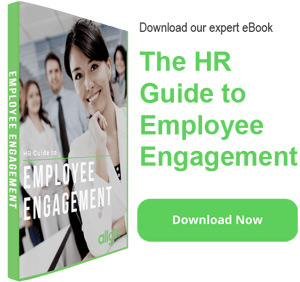 One established method of measuring employee engagement in isolation is the Say, Stay, Strive model. Employees are asked:
1. If they Say positive things about their organization and act as advocates
2. If they intend to Stay at their organization for a long time

3. If they are motivated to Strive to give their best efforts to help the organization succeed


"Employee satisfaction can and will be an outcome of a great culture, but it should never be your goal. Rather, employee engagement should be your goal".
Other models follow similar lines like People Insights PEARL's tool to measure employee engagement, which looks at:
Purpose:

How the individual feels about the organisation's integrity and goals

Enablement:

Their satisfaction with equipment, tech, the workspace, training and support

Autonomy:

If the individual feels trusted & respected

Reward:

Are they acknowledged and fulfilled, is there a culture of value and praise

Leadership:

Is the experience of leaders positive – do they listen, support, and enable positive change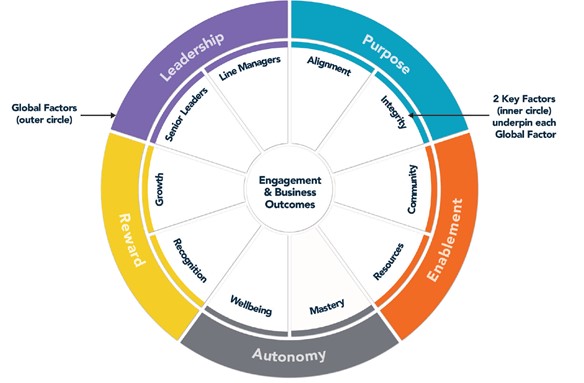 Read more: 8 Ways to Increase Employee Engagement>
A similar concept has recently been developed by The IBM Smarter Workforce Institute and Globoforce's WorkHuman® Research Institute. Their collaboration has produced the Employee Experience Index, defining the employee experience as "a set of perceptions that employees have about their experiences at work in response to their interactions with the organization."
Starting from the premise that "the battle for the hearts and minds of employees is played out daily through their workplace experiences," (IBM Institute for Business Value), they developed a 5-dimension, index to capture the core facets of employee experience. The Employee Experience Index measures:
Belonging:

feeling part of a team, group or organization

Purpose:

understanding why one's work matters

Achievement:

a sense of accomplishment in the work that is done

Happiness:

the pleasant feeling arising in and around work

Vigor:

the presence of energy, enthusiasm and excitement at work
There are now dozens of Engagement Measurement survey tools and platforms on the market, so measurement itself is no longer a real challenge. However, as the methods for measuring engagement can vary somewhat, perhaps the most valuable things is to select one method and systematically measure engagement in your company over time.
If you would like to talk to Allgo about putting in place an employee recognition programme to engage you staff, don't hesitate to contact us today.
Download the eBook
In the latest eBook from Allgo, we look in detail at employee engagement - what is is, what it does, how to measure it, and how to improve it in your organisation. Download it for free today by clicking the Download Now button below.
Download our expert eBook:


The HR Guide to Employee Engagement

High Employee Engagement is the holy grail of HR and is a significant factor in overall company performance. This definitive guide shows you:

Current Stats on Employee Engagement
How to Measure Engagement
8 Ways to Increase Employee Engagement
How Recognition Can Improve Engagement
10 Steps to Successful Employee Recognition=
How to Prove ROI on Recognition
12 Pitfalls to Avoid in your Employee Reward Programme