Join us for a free webinar on Thurs, October 29th at 12:30pm for a short webinar on "Tax-Free Rewards Made Simple".
Webinar Details
In this free 45 minute webinar, you'll find out everything you need to know to make the most out of the €500 Small Benefit Scheme - the best employee and employer tax break in Ireland. We'll take you through the scheme rules, COVID-19 impact, Budget 2021 changes, paying bonuses, rewarding remote workers, year-round tax-free reward programmes and lots more.

The webinar will be divided into-
- 20 minute presentation
- 20 minute Q&A
- 5 minute wrap-up

Who should attend?
- HR Managers in Ireland
- Managing Directors & Business Owners in Ireland
- Financial Controllers in Ireland
- Irish Accountants

We look forward to hosting you!


Thursday, October 29th 20202 at 12:30pm Sign up on LinkedIn at https://www.linkedin.com/events/rewardyouremployeesandsavetaxwi6719948749151494144/
---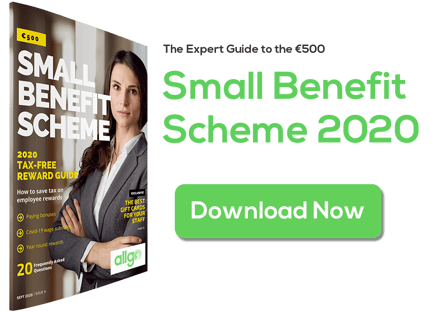 Small Benefit Scheme - Facts
€520 million
if all Irish employers fully availed of the Small Benefit Scheme, the total annual tax saving would be €520 million!
€120 million
Because only 50% of Irish employers use the Scheme, and on average those that do only avail of about 60% of the €500 limit, the actual annual tax saving is in the region of €120m.
---
Overview of Small Benefit Scheme
The Small Benefit Scheme allows Irish employers to provide a tax exempt reward for employees of up to €500 per year. As long as the rewards given are-
1) a maximum of €500
2) only one reward per employee per year
3) not paid in cash or by payroll, and
4) not part of any salary sacrifice arrangement
then these rewards are NOT subject to any Benefit-In-Kind (BIK) tax liability – either for the employee or for the employer. This can save up to €657 per employee in Employee Income Tax, PRSI and USC, and Employer PRSI!
---
Guide to Small Benefit Scheme 2020
Our 2020 edition of the Small Benefit Scheme Guide gives you expert info, insights and case studies for getting the most out of the scheme. Download it for free today by clicking the Download Now.
Free Expert Guide to the €500

Small Benefit Scheme 2020

Get the Expert Guide to the Irish Revenue's tax-free reward scheme for Irish employers and employees.

Small Benefit Rules 2020
Tax Savings Calculations 2020
Best Gift Cards for your Staff
Small Benefit & Wages Subsidy Scheme
Paying Bonuses Tax-Free
Extending the Scheme Year Round
Other Employee Reward Tax Schemes
Small Benefit FAQs