As part of Allgo's inaugural HR Trends Ireland Report, we asked 150 Senior HR Professionals "How do you think employee retention will change in 2019 compared to 2018?"
Talent retention will be more difficult in 2019 compared to 2018, though not quite as challenging as recruitment.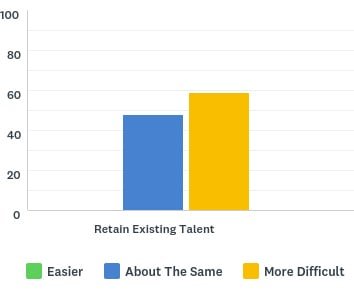 Again, Pay is the single most important factor in talent retention, though followed closely behind by Work Environment in 2nd and Work/Life Balance in 3rd.
Employee Recognition again ranked high in 4th, and perhaps not surprisingly the top 4 factors are the same for Employee Retention as they are for Recruitment.
What's perhaps more striking is how Employer Brand, Homeworking Option and the Work Commute are the least important factors in talent retention.
It seems that as long as the pay is right, the work environment good and the work/life balance is respected, then staff turnover will be minimised in 2019.

Employee Recognition is also a very important factor in ensuring staff are not tempted to look elsewhere.
Download the HR Trends Ireland Report 2019
Based on an online survey of 150 Senior HR Managers, this report offers a snapshot of the HR landscape in Ireland in 2019. It focuses on identifying the priorities and challenges for HR in the year ahead. Download it for free today by clicking the Download Now button below.
HR Professionals Survey Report

HR Trends in Ireland 2019

From a survey of Senior HR Managers, this report identifies the priorities and challenges for HR in Ireland in 2019. The report includes-

Your HR Department in 2019
HR Challenges 2019
Recruitment Trends
Retention
Wage Inflation
Reward & Recognition