Each year, Allgo conducts an in-depth survey of HR Leaders and Senior HR Managers to get an insight into HR challenges, priorities and trends in the year ahead.
249 HR Professionals completed the survey this year, and with all the changes in the last 12 months, there were some interesting insights gained. Here are the main projects we an expect to be the focus of HR professionals in 2021.
1. HR Systems and Technologies
The standout prediction for 2021 is for there to be an increased emphasis on improving HR Systems and Technologies to allow for remote working and flexible working. This is not surprising considering the dramatic change from traditional work settings to remote working that we have experienced this past year as a result of the pandemic.
Overall, the workplace has changed for good, and HR will be mainly focused this year on the practicalities of making it work.
2. Health and Wellbeing
HR Professionals have concerns about employee Health and Wellbeing in 2021. This is not at all unexpected given the global health crisis that we are currently facing.
This year, In addition to ensuring the physical safety and health of employees, many HR professionals are putting a particular emphasis on the mental health of staff this year. Ranking it more important that ever before.
---
HR Trends 2021
Download the full survey report for invaluable
insights into HR challenges and predictions
in the coming year.

Download now at https://info.allgo.ie/hrtrendsreport2021
---
3. Covid-19 Related Work Practices

HR Professionals are also naturally focusing on Covid related Work Practices in 2021. From wearing face coverings, having social distancing measures and ensuring an extremely clean work space, HR departments are facing additional difficulties this year to ensure a safe working environment for their staff.
4. Learning and Development
As systems move online to facilitate the new working world brought on by the pandemic, HR Professionals are searching for online tools to help with tasks such as Learning & Development, Recruitment and Online Interviewing.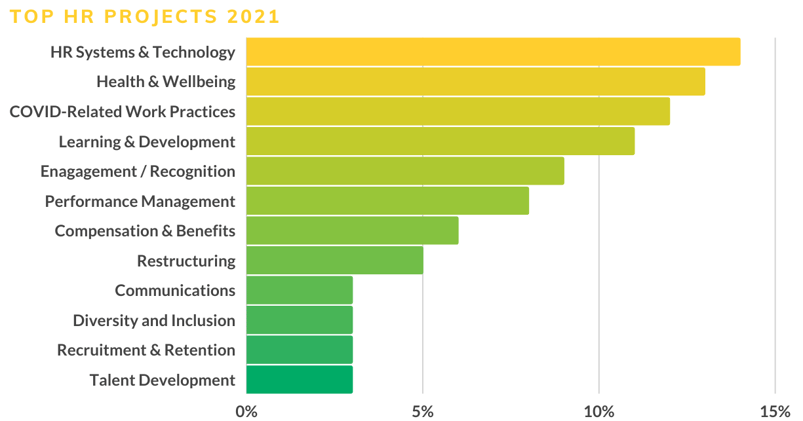 How does this compare to 2020?
In 2020 the top 4 HR projects were, Engagement and Recognition, Health and Wellbeing, Learning and Development and Diversity and Inclusion.
Employee Engagement & Recognition, which was the top priority pre-pandemic at 20%, is now taking a back seat to the practicalities of managing the current situation and planning for the post-pandemic workplace.
Our survey also found that 66% of companies are now conducting regular employee surveys. This figure is up almost 10% from 57% in 2020.
Download the HR Trends Ireland Report 2021
Based on a survey of 249 HR Leaders and Senior HR Managers, this report highlights the challenges and trends in HR for 2021. Download it for free today by clicking the Download Now.
HR Professionals Survey Report 2021

HR Trends 2021

Get the insights and predictions from senior HR Professionals as to what will be the trends in HR over the next 12 months.

HR Priorities for 2021
HR Challenges in 2021
Recruitment Trends
Retention Challenges
Pay & Benefits
Reward & Recognition
HR Predictions 2021