With the national COVID-19 lockdown in Ireland lasting until December 1st, and with further restrictions likely after that, most companies are not planning on going ahead with a Christmas Party this year.
So what alternatives are employers considering in place of the traditional Christmas event this year? Well, here are 5 alternatives for 2020.....
1. Tax-Free Gift Cards
The Small Benefit Scheme allows Irish employers to provide a tax exempt reward for employees of up to €500 per year. Currently, only about half of Irish employers avail of this scheme, and for those that do, the average reward given to employees is only €300.
This means that there is huge scope to use some, or all, of the Christmas Party budget (which itself is a tax-deductible expense) to start or to increase the tax-free gift card or voucher companies give to staff. It certainly is something employees would appreciate, as well as being highly tax-efficient.
2. Christmas Hampers
A nice alternative to the Christmas Party might be to arrange for a surprise seasonal hamper to delivered to each employee, allowing them to enjoy some festive cheer with their own households instead of with colleagues.
Be warned, though - due to COVID-19 supply chain challenges, it is expected that Christmas Hampers will sell out this year, so ordering early (ie now) is highly recommended, especially if you want to give an identical hamper to each member of staff. There is a huge selection of Christmas Hampers available now on AllGifts.ie.

3. Virtual Christmas Party
At the risk that people are a bit "zoomed-out" this year, holding a virtual event is something many companies are actively looking at. It may work best for smaller company or department events, though some larger employers have already shown how large scale virtual social events can be successfully run. Lidl Ireland recently held a virtual lottery for their 6,000 employees. Hosted by Daithi O'Se, with Gavin James providing the entertainment, the top prize was a car, and everyone who attended won a prize.
While this might not be in every companies budget, it does show how a bit of imagination can go a long way to making a virtual event exciting and new, and overcoming that zoom fatigue...
---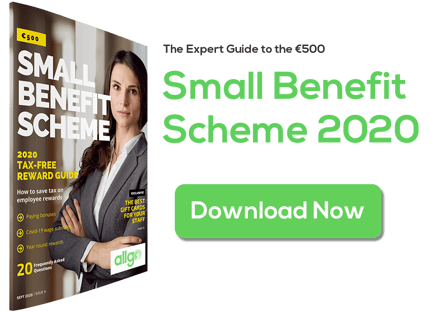 Small Benefit Scheme - Facts
€590 million
if all Irish employers fully availed of the Small Benefit Scheme, the total annual tax saving would be €520 million!
€190 million
Because only 53% of Irish employers use the Scheme, and on average those that do only avail of about 60% of the €500 limit, the actual annual tax saving is in the region of €190m.
---

4. Christmas in July
Christmas in July is already celebrated by many people, in particular Northern Hemisphere expats in Australia (July generally being the coldest month of winter downunder). With much talk of a COVID-19 vaccine being available in Q1 2021, postponing the Christmas Party until July 2021 might be both attractive and an interesting twist on the traditional cold dark winter event. Perhaps a full Aussie Christmas BBQ outdoors could even be in order!
5. Charities
Christmas is the season of giving. And many companies already run year-end charity initiatives. This year, there will definitely be an even higher number of companies giving to charity, and maybe diverting some of their Christmas Party budget to supporting good causes - perhaps with input from employees as to what charities should benefit.
One thing is clear, with almost half of charities anticipating a funding loss of up to 75% in 2020 according to The Wheel, supporting local, COVID-related, or international charities has never never been more needed.
---
Guide to Small Benefit Scheme 2020
Our 2020 edition of the Small Benefit Scheme Guide gives you expert info, insights and case studies for getting the most out of the scheme. Download it for free today by clicking the Download Now.
Free Expert Guide to the €500

Small Benefit Scheme 2020

Get the Expert Guide to the Irish Revenue's tax-free reward scheme for Irish employers and employees.

Small Benefit Rules 2020
Tax Savings Calculations 2020
Best Gift Cards for your Staff
Small Benefit & Wages Subsidy Scheme
Paying Bonuses Tax-Free
Extending the Scheme Year Round
Other Employee Reward Tax Schemes
Small Benefit FAQs